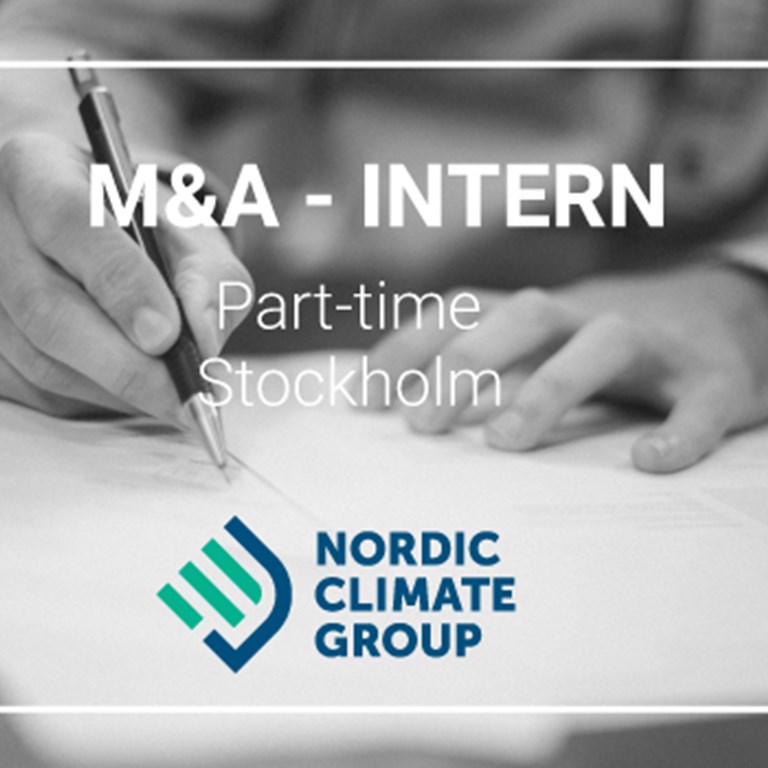 M&A PART-TIME INTERN
Nordic Climate Group (NCG) is a provider of services and installations of cooling and heating systems across Sweden, Norway, Finland and Denmark. We're on a high growth journey, being private equity-backed (Altor) and have grown to SEK ~3.5B in four countries via 61 acquisitions. NCG focuses on helping their customers minimize climate footprint through maximizing energy efficiency and by driving the shift towards climate neutral refrigerants. Our success to date is a result of entrepreneurial spirit, decentralized operations with cooperation within selected areas such as in winning new business, recruitment & training, procurement, and sharing of technological know-how.
M&A PART-TIME INTERN
Arbetsbeskrivning
What we offer
A unique position to work on live transactions and gain first-hand M&A experience while contributing positively towards improved energy efficiency and sustainability. In the position, you will be a member of our M&A team and work closely to support the Head of M&A. Main responsibility will be to collect and analyse data, support in M&A processes and due diligences.
This opportunity will give you the chance to work on an important topic with a leadership team with extensive backgrounds from leading professional services firms (such as management consulting, transaction services).
We would like you to work 1-2 days a week, with high degree of flexibility during exam periods. There is opportunity for a full-time internship, especially in the summer. Our office is located in Mörby Centrum, Danderyd.
Your work
Collect data and conduct analyses across a range of topics, but primarily M&A-related
Researching and evaluating potential acquisitions, updating financials and ensuring our pipeline is up to date
Prepare presentation materials and learn to communicate effectively to different audiences
Work with diverse teams and people throughout our organization
What we're after
Strong academic record and preferably with a few remaining years at university studying towards a relevant degree (e.g. finance, management, industrial engineering or similar)
Genuine interest and understanding of business, finance and investing
Previous experience with Microsoft Office (i.e. Excel, Powerpoint), and willing to learn
Application
Final application date end of Sep., but interviews will be held continuously. Our ambition is to fill the position during Aug/Sep 2023 and that the chosen candidate will start in mid-September. However, for the right candidate we are flexible with starting dates.
Send your application including your resumé, brief cover letter, and university transcript to: Malin Semb-Josefson (malin.semb@nordicclimategroup.se, +46104107406)
Potential questions regarding the role can be directed to Alexander Vitols (Head of M&A, alexander.vitols@nordicclimategroup.se)
About Nordic Climate Group
"For a better climate" is our promise to the market, to our customers, to our employees and to the outside world. Nordic Climate Group is a leading company in cooling, heating and energy-efficient installations with the goal of being an obvious role model in sustainable climate solutions. We take overall responsibility from idea, design, installation and delivery to maintenance and service.
The Group was formed in 2021 and now consists of approximately 70 local establishments and has more than 1,200 employees. Nordic Climate Group is owned by a broad group of entrepreneurs and employees together with Altor Fund V.
Mer information
Titel: M&A PART-TIME INTERN
Omfattning: Deltid, tillsvidare
Sista ansökningsdag: 2023-09-20
Kontaktperson: Malin Semb-Josefson