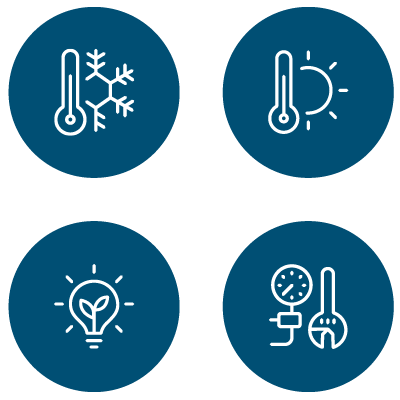 Our four business areas – cooling, heating, energy and service
We make sure you have the right temperature in your facility, whether it's a small tourist hotel, neighbourhood shop or restaurant, or a large office building, a supermarket or industrial premises. For sustainable cooling or heating, we endeavour to use natural refrigerants as far as possible.


Our shared strength is that you have close access to expertise in a wide range of areas. This pool of knowledge means we are always in a position to identify the best and most sustainable solutions for you as a customer. We ensure safety and quality at all levels throughout our business areas of cooling, heating, energy and service.
Focus on custom solutions
The systems we supply are usually fully customised and specially designed for each unique application, whether for a newly established or an existing plant. We ensure compliance with all laws and regulations in force upon installation without you having to think about anything at all. We understand the importance of everyday operations.